BC Game Registration – Create Your Profile
Once you complete our BC Game registration procedure on our official online site, you will be able to enjoy many benefits that mere visitors can't take advantage of.
Some of the additional components that gamblers from India will unlock after BC Game registration are playing our thousands of online casino games for real money, additional Account features to view their details in a few clicks, as well as claiming bonuses, starting with the fantastic welcome bonus, and participating in our ever-evolving VIP club which brings extra prizes.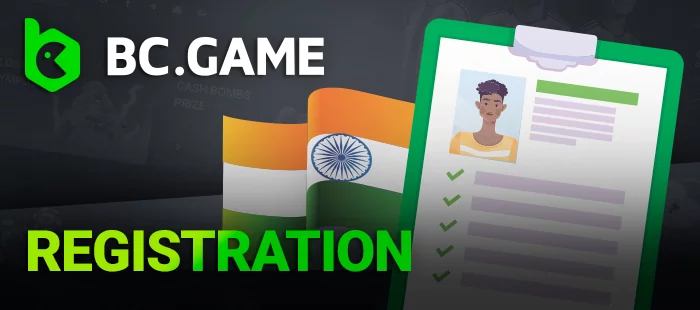 How to Sign Up at BC Game
Our BC Game registration process is very simple and doesn't take up much of the visitor's time in order to fulfill the details and create the gambling account. If you follow the step-by-step instructions we present below, you'll be able to set up an account in a matter of seconds.
Go to our official online website or open the downloaded BC Game mobile app.
Click on the green 'Sign Up' button located in the top right corner of the homesite.
Choose whether you'd like to register via email or phone number.
Enter the email or phone number and the password in the fields below.
Insert a referral/promo code if you have one.
Tick the box to confirm you have read and accept the User Agreement and that you are of legal age.
Click on the green Bc game 'Sign Up' button.
In order to get the free spin on the Lucky Wheel, enter your birth date, first name, and last name in the following window.
Finally, click on the green 'Confirm' button.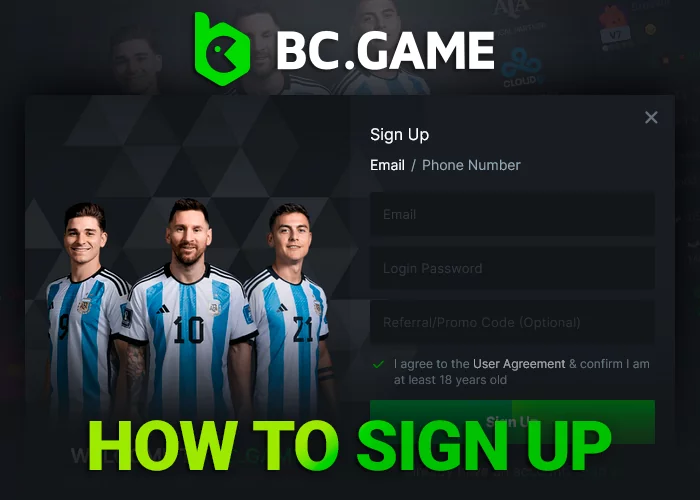 Sign in at BC Game
In case you log off by mistake after having created your account, or your session expires if you haven't entered your account for a while, you will have to complete the BC Game sign in process. For the convenience of our Indian players, we have created a few ways to log in to your casino account, which will be presented below.

Sign in via Email or Phone Number
To sign in via email or phone number on our official BC Game casino site, follow the steps below.
Enter the official online gambling site of Bc Game.
In the upper right corner, click on the gray 'Sign In' button.
Enter your email or phone number, depending on which one you've selected when completing the Bc game registration, and then insert the password below.
Click on the green 'Sign in' button.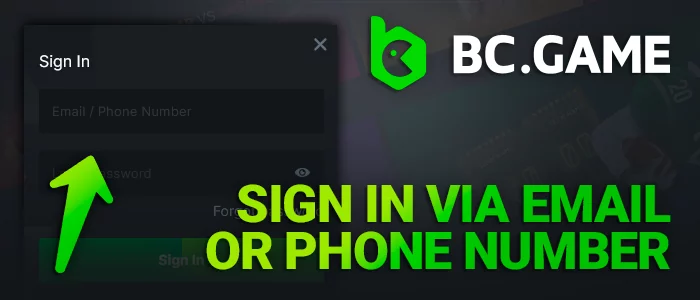 Sign in via Social Networks
If you wish to sign in using any of your active social media accounts that we present in the Bc game sign in window, go through the steps below.
Visit our online casino site.
Click on the gray 'Sign In' button, placed in the top corner on the right.
At the bottom of the window, choose to log in directly with Google, Facebook, Telegram, MetaMask, or WalletConnect.
In the next window, enter the social media account details and you will be automatically signed in.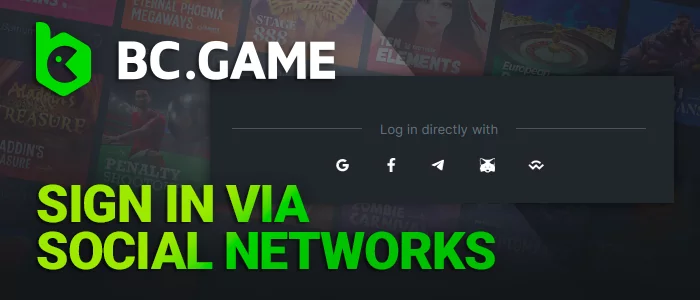 Restoring password
In case you can't remember the password you used when completing the BC Game register in India, you can easily change it via the sign-in window by going through the following steps.
After entering the sign-in window, click on the 'Forgot password' button placed right below the Password field.
Enter the email or phone number you've used when creating an account.
Click on the green 'Reset Password' button and wait for email or phone instructions.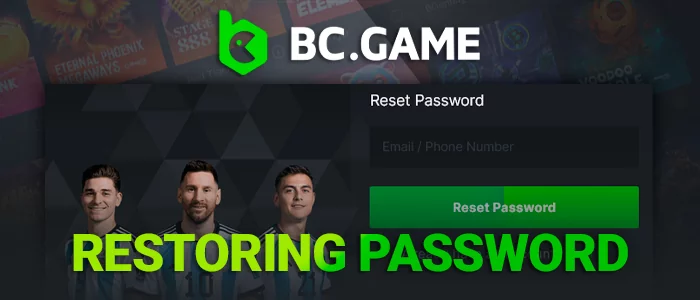 KYC Verification of BC Game Account
The protection and well-being of our customers from India are protected via our active KYC (Know Your Customer) policy. This policy requires that the identity of any suspicious account holder be further examined and determined, by completing a specific Bc game company verification process which can be requested by any member of our customer support team at any time.
In order to make sure that we prevent underage gambling and that the User Agreement rules aren't breached by anyone, we might request any of the following documents that serve to verify your identity.
Proof of Identity (An ID card, valid passport, or driver's license);
Proof of Address (Any utility bill which isn't older than 3 months);
Proof of Payment (A bank statement or a copy of the card you used when depositing).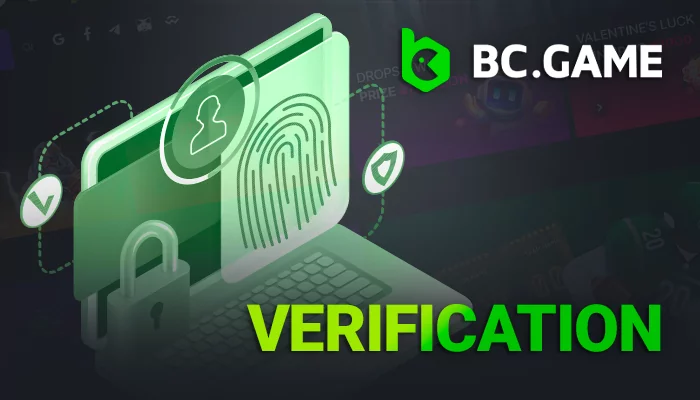 Features of Player Personal Account
When you create a BC Game personal account, you will open the Account section which is divided into several subcategories that serve distinctive purposes. For the sake of easy usage by Indian players, we'll go through them in detail below.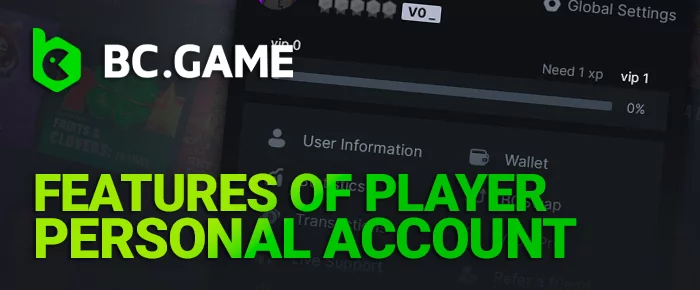 User information. The User Information field serves for checking your VIP status, and the loyalty Medals you gain while playing slots and other games on our site and also shares statistics related to your total wins, total bets, and total money wagered. Here, you can also view your top 3 games and the wagering contest.
Statistics. This field is exclusive to showing statistics related to your account and the BC Originals you have played so far after Bc Game registration. You can choose to view Global, Keno, Crash, Dice, or any other type of BC original game and view the wins, bets, and wagered money below.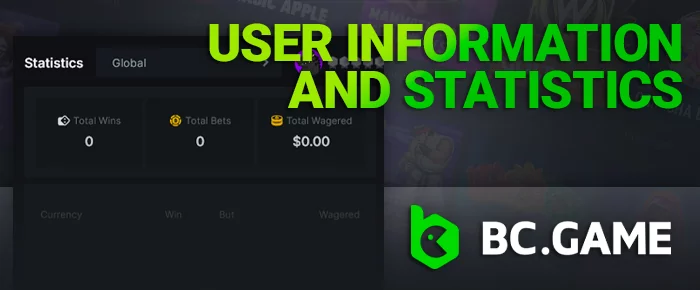 Wallet. The Wallet is the place where everything regarding payments on our site is performed. Here you can deposit, withdraw, buy crypto, use the BCSwap feature to swap cryptocurrencies, transfer in or out of your Vault Pro, and also review your NFTs.
Vip club. Every registered player is automatically enrolled in the VIP Club and starts with a Bronze card. In this section of your Account, you can find all you need to know for VIP and SVIP members of our distinguished Loyalty Club.
BCSwap. This is a shortcut to the BCSwap option which takes you with a single click to the section where you can swap cryptocurrencies, directly on our site. Just choose your cryptos above and click on the green 'Swap Now' button.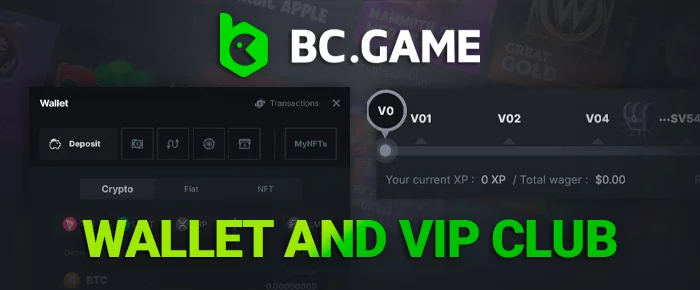 FAQ
What is the minimum age for creating an account?

The minimum legal age for completing the BC Game registration process on our site is 18 years old. Players who are found to breach this rule will have their accounts blocked and winnings forfeited.
Сan Indian users register?

Yes, of course. All Indian users are welcome to register on our site by completing the signup process in a few simple steps. Mind you, you need to be at least 18 years old to register.
Can I have more than one account?

No, never. It is strictly forbidden to hold more than one account per person, IP address, or household. The consequences of doing so are clearly stated in our User Agreement and we advise you to carefully read it before signing up.
Can I register via a mobile app?

Absolutely. Registering via the Bc game mobile app is equally easy and straightforward. Just download it and tap on the green 'Sign Up' button. Enter the necessary email address or phone number and password and, finally, tap on the green 'Sign Up' button.