Join BC Game Vip Club and get Exclusive Bonuses
Our most loyal Indian players enjoy special status and treatment on our official site by being honourable members of our BC Game VIP club.
Numerous bonuses and gifts are awarded to our regular players, from free money and free spins to special codes, events, and trips to our SVIP members of the club.
Learn the rules of participation and reap the benefits of our exclusive Bc game loyalty program.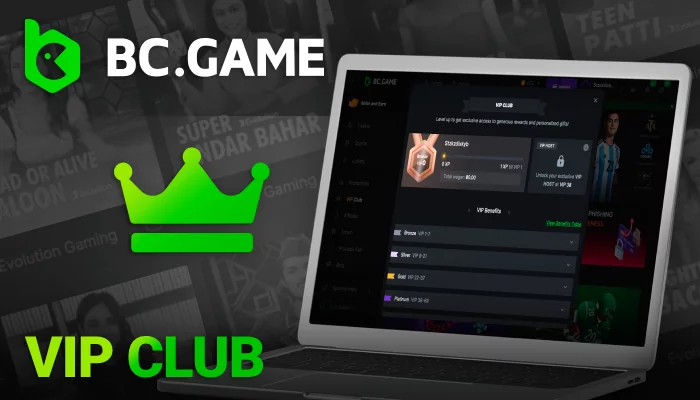 How to become a member of BC Game VIP Club
Simply by registering an account on our online gambling website or via BC Game app, every player is automatically enrolled in our BC.Game VIP club. All our customers start at the beginner stage, the Bronze Card, at VIP level 01. Afterward, by wagering real money on our online casino games or placing sports wagers in our sports betting section, each VIP club member earns XP points.
You receive 1 XP for each 83 INR wagered on casino games, and 2 XP for betting on sports. Your accomplishments will help you advance through the five tiers of our club as you accrue more XP.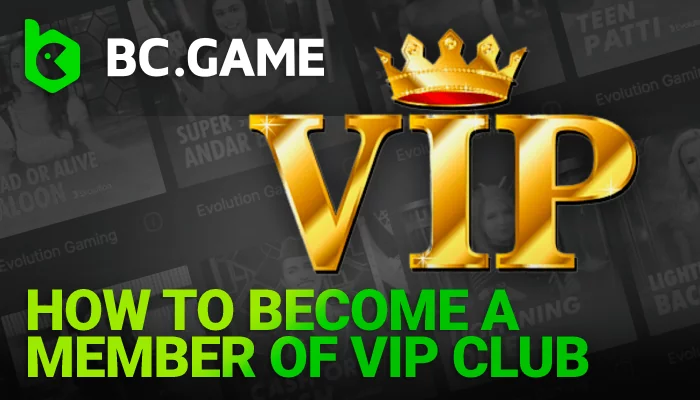 Level System
The increasing stages of our BC Game loyalty club are represented as cards. Each card consists of several VIP levels and Indian players need to climb each level of the particular stage in order to move on to the next card. The table below contains all the details regarding cards, levels, and necessary XPs.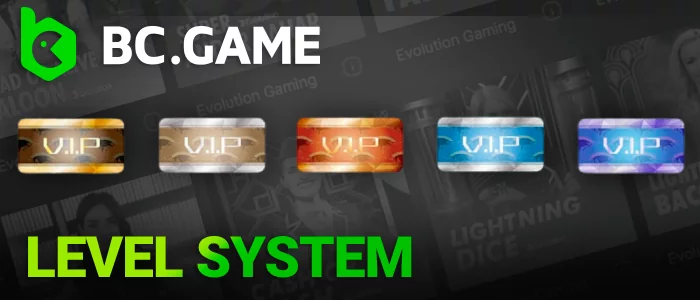 Cards
Number of levels
XP range
Benefits
Bronze
7
1 – 4,000
Roll Competition;
Secret Treasure;
Raining;
Coin drop
Tip
Private chat
Possibility to send images to chat
Silver
14
5,000 – 45,000
Bonus – Where is Coco
Rakeback and rakeback booster
Gold
16
49,000 – 297,000
Recharge bonus
Fee-free withdrawals
Platinum
32
321,000 – 8,577,000
All privileges are unlocked with this stage
Diamond
33
9,217,000 – 212,993,000
SVIP Code;
SVIP Manager;
SVIP Trip;
SVIP Life in Suite;
SVIP Party.
The different unlocked rights for BC Game VIP members
There are a plethora of benefits and special prizes that members from India of our BC Game loyalty program will enjoy. In order to fully understand what it is that you are gaining by reaching a certain card, we will explain the points in the list below.
Roll Competition – This dice-spinning bonus is unlocked at VIP level 3 and brings extra prizes according to the numbers on your dice.
Secret Treasure – When your VIP adventure is through, you will have collected all 14 Secret Treasures that are hidden throughout the stages, which start at VIP level 4.
Private Chat – After reaching V04, you can enjoy the private chat feature to interact with other loyal players and share experiences.
Raining – This arbitrary rewarding event takes place in the chat room, where only players who have reached V04 can be randomly gifted.
Coindrop – This bonus also occurs in the chat room, where crypto coins fall for random V07 players.
Tip – After reaching V07, you may transfer money from your account to another player's if you want to.
Images to chat – Players may start sending images and gifs in the chat room starting at the V08 level.
Where is Coco Bonus – Coco randomly appears on the site every 6 hours, giving out a BC.game VIP club bonus for those who spot him.
Rakeback and RB booster – The rakeback bonus gives back 20% of your commission from all placed bets, and a rakeback booster is unlocked at V014, increasing your rakeback by 5% hourly.
No-fee Payouts – As soon as you reach version 22, you may swap JB coins on our site without paying any withdrawal fees.
Recharge – When you reach V22, you have the opportunity to receive free cashback bonuses as frequently as every 10 minutes.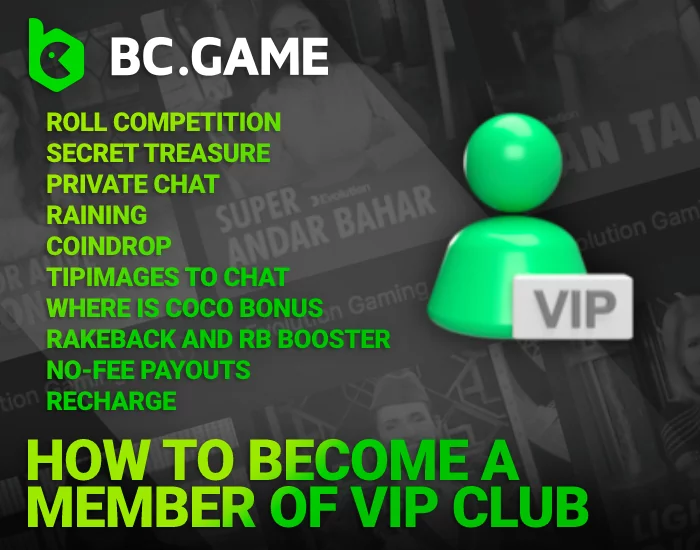 SVIP Special Benefits
You become an SVIP as long as you reach the Diamond card stage, and this unlocks the most exclusive and unique list of BC Game VIP club benefits that not everyone registered on our site can enjoy.
VIP Host – Your own VIP host to address questions relegated to gambling, betting, VIP membership, or anything else regarding your stay on our site.
SVIP Codes – Exclusive bonus codes which will unlock extra prizes.
Secret Treasure – A mystery bonus whose prizes proportionately increase with your VIP level.
Free Coins – The higher the level, the more cryptocurrencies you receive for free!
SVIP Genie in a Bottle – Your very own Genie in a Bottle which will make your reasonable casino wishes come true.
SVIP Trip – When you are an SVIP, you get all-inclusive SVIP trips around the world – for free.
SVIP Life is Suite – When you are an SVIP and visit the most opulent hotels across the world, you will get VIP treatment at its finest without paying anything.
SVIP Party – Finally, receive an invitation to our SVIP Annual Party and be treated like a celebrity.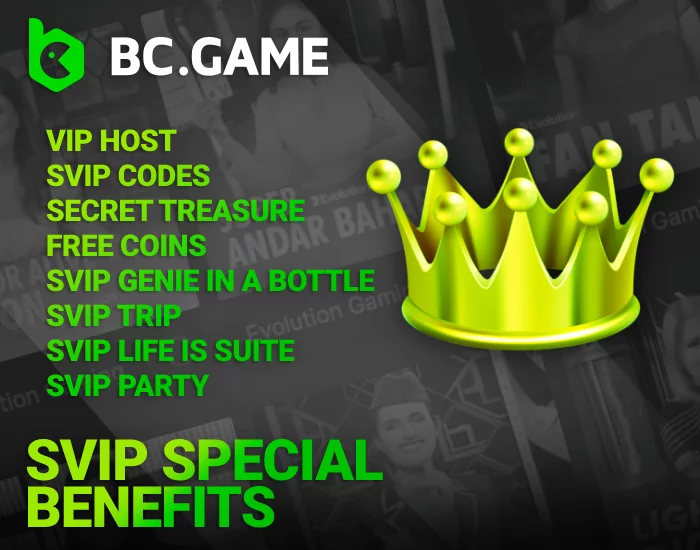 Why should you join the BC Game VIP Club?
Even though the process of reaching VIP levels might take time and patience for some, everything becomes enjoyable and worthwhile with the list of benefits you gain as a member of our BC Game VIP club.
Feel the luxury and enjoy exclusive treatment – At our club, you may not only take advantage of exclusive promotions like a VIP slot welcome bonus or free coins, but you can also enjoy a life of luxury!
One step further from other gamblers – The edge is on your side as a club member, and you can take advantage of the free coins, spins, and cashback bonuses to play even more.
Most hassle-free betting and gambling – With a VIP host at your disposal, and later on as an SVIP member, almost any wish can come true on our website.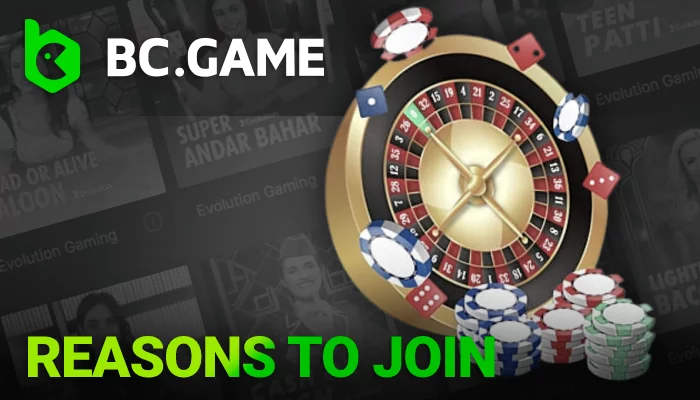 BC Game Loyalty Program Bonuses for our regular players
As your journey of playing online slots or other games in our lobby unfolds, you have the chance to unlock loyalty medals. There are a total of 21 medals Indian players can unlock, and these are the bonuses they gain with each group of them unlocked.
For 5 medals you get 20 BCD;
For 10 medals – 800 BCD
For 15 medals – 2400 BCD
For 20 medals – 10000 BCD
To paint a better picture related to these BC game VIP club medals, let's look at what the first five will bring.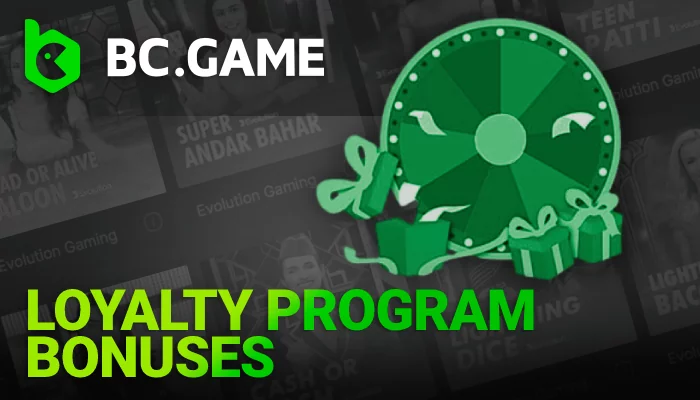 | Medal Name | Description | Quantity | Duration |
| --- | --- | --- | --- |
| Talkative | By texting in any chat room for a total of 200 days, you can win this priceless medal. (200 days do not have to be consecutive!) | Unlimited | Unlimited |
| Fearless One | You have suffered the greatest losses of all. The fearless cannot be defeated by anything! | Unlimited | Unlimited |
| The Loaded King | You're awash in cash! If you have the largest wallet balance in Bc history, you can win this bling medal. (Excluding P.S. Vault balance) | Unlimited | Unlimited |
| Highest Contributor | If you receive this medal, you are the one who has placed the highest bet in our brand's history. | Unlimited | Unlimited |
| The Top Gun | This medal is for whoever attains the highest VIP level – SVIP 33 is now open! | Unlimited | Unlimited |
FAQ
How can I join the Vip Club?

The moment you create an account on online BC Game casino site, you are enrolled in our special BC game loyalty club. Players from India start at V01 in the Bronze stage.
What is a Secret Treasure?

The Secret Treasure is a special mystery bonus for VIP club members. The higher your rank, the more lucrative the reward, which can be any kind of special bonus such as free spins, free coins, and many others.
How can I upgrade my VIP Level?

The levels in our loyalty program can be upgraded by collecting XP (points). The more you wager on sports or online games in our lobby, the more XP you gain. Players receive 1 XP for 83 INR placed on casino games, and 2 XP for 83 INR wagered on sports.
How can I earn Medals for the Loyalty Program?

The BC.Game loyalty program medals are also earned through betting on sports or casino games. The more medals you unlock, the higher the bigger the prizes you receive. So, players from India gain 20 BCD from 5 unlocked medals, and for unlocking all 20, they will receive 10,000 BCD.